"Hey four-eyes!"

I got that all throughout high school. And I would answer because I thought glasses were the perfect accessory for a man to wear interchangeably – and so much better than the overly done aviators.
Don't get me wrong – aviators can be the perfect thing to tie together an individual look, but more often than not, it is done entirely too much and can just come off as tacky.
Regular glasses, with clear lenses are the perfect compromise.
Not to mention, they can do an array of things for your personality.
Recently, I had an eye examination – which I hate more than the dentist.
There I was, sitting in the chair, flinching every time my considerably hott optometrist with two ts not one, would approach my eyes.
"Relax Mr. Sanders," she said as I continued to wiggle in the chair.
Finally, she finished what seemed like to be the longest 10 minutes in my life. Then she invited me to the eye glass wall with frames and styles from all over.
The real challenge still lay ahead.
I had to buy glasses and I didn't know which ones to get.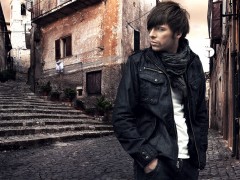 Meanwhile, my friend who got her eyes examined rose to the occasion and had already picked out a dozen frames – none of which she ended up getting.
Tommy Hilfiger, Michael Kors, Converse, Timberland – when did couture glasses come onto the scene?
I didn't know where to start, and I wasn't getting any help from anyone.
So I began trying on everything – from the nice, to the tacky, to the hilarious.
It occurred to me after an hour and a half of looking for glasses that I was shopping with the same zest that I use when buying clothing.
I was procrastinating, cringing, and arguing about every pair that hit my face.
On another note, I was kind of upset about putting on frames that had seen so many hopefully, but probably not; clean faces.
And I still hadn't picked out a pair of glasses – even worse, my coupon called for two pair.
By 1 p.m. I had stopped looking for glasses and begun entertaining the staff with crude and ironic humor.
I even placed an order for lunch when they sent for takeout.
I had to come to the realization that I had a problem.
Because I hadn't gotten new glasses in such a long time, I forget about what a process it was.