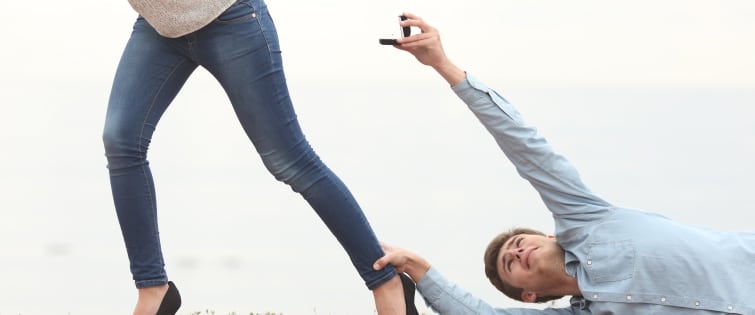 Staying Friend After Rejection
There is a cliché of being friends after a failed attempt at starting a relationship. This is a poisonous situation to be in; here is why you should stop being friends after she rejected your advances.
Must Read:  What to do when a woman rejects you but still wants to be friends.
You're wasting your time
There is nothing wrong with being interested in someone romantically, and cutting them off when they do not reciprocate your feelings.
Some men think that if they remain friends with the girl, she will eventually decide to give him a chance and take him up on his offer of a date. Usually, this will not happen. There is a very slim chance of her later changing her mind- in the vast majority of instances, you are just wasting your time by continuing to be friends with her.
In fact, you're not actually friends with her. You're in the dreaded friend zone (where you secretly want her, but she has not interest in you.)
She'll think you still want her
Even when you get over your desire to date her, she will maintain a belief that you are still interested. Depending on the woman, she will use this information in different ways. In most cases, the girl will just feel awkward around you.
This is hardly the foundation for a decent friendship. Some women will interpret every one of your actions towards her as flirting. You will occasionally encounter a girl who enjoys your attention, but is not genuinely interested.  And her hot and cold behavior gets frustrating.
In this case, she will flirt with you every time she senses your interest waning. Having a friendship when there is a strange dynamic between you is difficult and not worth the effort.
Related video: Why Girls Act Hot & Cold (And What it Really Means)
She will get in the way of future relationships
Future girlfriends will simply dislike the fact that you are still friends with someone who you wanted to date. A new girlfriend will play it cool at first and pretend to accept your friendship, but she will always be insecure about this woman.
This is made even worse if your unrequited love still acts like you have a crush on her, whether or not that is true. You will find that maintaining a friendship with a woman who rejected your advances will be an obstacle to future relationships, and it will involve far less drama if you nip this situation in the bud.
Related Articles:
The exception to the rule
You should never attempt to strike up a friendship with a woman who you were not even friends with before she rejected you. This is easy to justify- you have not lost out on anything, and there will be no hurt feelings from either side.
However, you may want to continue being friends with a girl considering that you had a close relationship prior to the rejection incident. Perhaps if you had a very strong strong friendship, in time you will be able to restore your friendship to its former platonic stability.
However, there will be a period of awkwardness in which you will have to take some space from each other. This break in time before recommencing your friendship is important as it will signal a fresh start, and will reduce the likelihood of her thinking your crush is perpetual.
Here is another article related to the subject: https://www.tsbmag.com/2013/11/25/what-to-do-after-she-rejects-you/
Related video: 4 Reasons Women Lose Interest (Even When She Liked You)