Best of TSB Magazine 2008- Year in Review
2008 has come and gone… and it has been an extremely fun and successful year for TSB Magazine.  Over the past year we've had the fortune to bring on many new exciting writers, we've held our first Mansformation Wingman Retreat, we've begun our Member's only newsletter, partied at the Playboy Mansion… and have seen our readership almost triple.
We've compiled a list of just some of our most popular posts of 2008.  We've also have tons of podcasts that we decided not to include, as well as our entire video library.
Have a Happy New Year!
Most Popular and Memorable Posts of 2008
Introductions – Feel free to leave yours as well
The Hundreds of Videos Added to Our Libary
Mike Stoute Heads to the Vegas Porn Convention
The Hero, the Bounty, and the Purpose Driven Life
Lindsay Lohan Naked Topless Hotness
Play all 32 Romp Booty Call Games Here
10 Ways a Girl Can Keep a Guy Like Me
5 Fastest Ways to Get Women Attracted to You
10 Ways to Make Yourself More Attractive
The Perfectly Calibrated Pickup
The Infamous Ross Jeffries Interview
21 Ways to Expand Your Social Scene
A Manly Guide to Choosing Your Drink
7 Secrets for Getting Out of a Slump
What to Say When She Asks What You Do
Top 5 Vacations for the Alpha Male
Mike Stoute Live Pickup with Kiss Close
How to Naturally Increase Energy Levels
7 Ways to Increase Testosterone
How to be The Coolest Kid in High School
Bust Through Your Comfort Zone
5 Best Part Time Jobs for Meeting Women
16 Most Addictive Things on the Internet
Is There a Need for Male Bonding
22 Most Essential David DeAngelo Articles
Super Conference and Playboy Mansion Party
Caroline Caz Pal-Phelps Stripper GIrlfriend
Shadow Boxing for Frame Control
Free Break Through Openers ebook
3 Things to Do Before Turning 25
Complete Guide to Casino Etiquette
11 Classic Posts from Neil Strauss
Are You Making These Mistakes Talking to Women?
How to Make a Direct Opener Work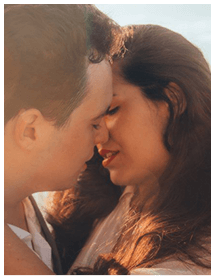 Simple Trick Tells You if a Girl Wants You to Kiss Her
Do girls leave you confused as to whether or not they like you?

Let's face it. Girl's don't make it easy for you. She will often send mixed signals leaving you unable to tell if she is being friendly or flirty. If you read her signals wrong you risk rejection and embarrassment. Or worse, you blow it with a girl who wanted to kiss you.
Here is a simple and innocent move that will instantly tell you if you're in the friend zone, or if she's waiting for you to kiss her.

We respect your email privacy
About Bobby Rio I'm Bobby Rio, one of the founders of TSB. I tend to write about what is on my mind so you'll find a mix of self development, social dynamics and dating articles/experiences.  For a collection of some of my favorite articles check them out.